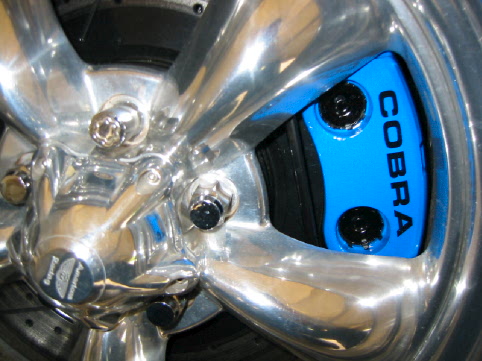 Q: recently ordered a front-rear GT to Cobra brake kit.The Car is 1999 GT. The stock rear brakes have a support plate that attaches to the axle tube with a U-bolt and to the flange plate at the caliper bolts. This part does not fit the new flange and I assume it is no longer needed. Is this correct? Also, I run the car at road course track events and would like to display your company name. Could you send a few company logo stickers if you have them? Dale Cluse, 634 Lamplight Lane, Hazelwood, MO 63042. I am total impressed with the products, prices, web site, and the packaging. Very slick. Great job!
A: Thank you for the compliment and you do not need the bracket, logo stickers are on the way
Q: I own a 2000 Ford mustang GT and would like to put on the PBR two piston calipers, but I would like the calipers silver with the pony in red can you do this.
A: The calipers can be in almost any color and with many types of logo's. In fact we will custom make a logo for you. All you have to do is ask us.
Q: I own a 1991 Ford mustang GT I am receiving shortly a new set of 17" wheels. I need new rotors. I saw the ones you had that were crossed drilled and slotted, but it states for high performance use only. WHat exactly does this mean? Should I not purchase these rotors if I do alot of regular street driving? Thanks
A: THE ROTORS WILL BE FINE; MOST PEOPLE LIKE "PERFORMANCE VEHICLES" SO WE MAKE ROTORS FOR THEM BUT WE WILL MAKE THEM FOR ANY CAR OR TRUCK
Q: I am going to use the '94-'95 spindles to do a 5 lug up grade on a '88 mustang front end. Will the parts listed below work on the car? I will be using 17" cobra R wheels, also what dia. are the rotors? 13"?
A: THE ROTORS FOR THE 1994-1995 SPINDLES ARE 13 INCH AND THE CALIPERS ARE PBR COBRA MUSTANG
Q: I want to purchase brake rotors from your store but you give two options for my 1997 F-150 4x2 truck. The first option is for truck with ABS all around and second option is for ABS rear only. How can i determine what my truck is?
A: HI WHEN IN DOUBT ALWAYS GO FOR THE ABS.IF YOU DO NOT HAVE ABS THEN THE GEAR ON THE ROTOR WILL DO NOTHING.
Q: I have a 2000 mustang GT. And am looking for the Cobra 13" upgrade kit. However, i don't want the stock pads that come with the kit. Is there an option to upgrade it to, say, Hawk HP+ or get the kit with out the pads ?Also, who are the manufacturers for the 13" rotors (i want the plain ones).
A: HI THE HAWK HPS PADS ARE AN ADD ON FOR $99.95 AND THE ROTOR IS MADE BY AIMCO (OEM)
Q: Do you list or can you make a set of ceramic DUST-FREE front pads similiar to the Raybestos Quietstop pads for an '02 Saab 9-5 Aero?
A: HI WE HAVE GONE BEYOND THAT WITH HAWK FERRO-CARBON PADS
Q: WHAT'S WITH POWDER COATING I CAN PAINT MY CALIPERS MYSELF.
A: POWDER COATING IS NOT PAINT IT IS THERMOPLASTIC PUT ON AT OVER 500 DEGREES IT'S NOT EASY TO DO BUT THE RESULTS ARE A VERY STRONG BOND AND VERY BEAUTIFUL COLORING, ALSO ONE QUICK RINCE OFF WITH A HOSE IS ALL YOU HAVE TO DO TO KEEP THEM CLEAN.
Q: CAN YOU DO POWDER COATING ON MY FORD EXPLORER CALIPERS.
A: YES, WE WILL POWDER COAT ANY CALIPER SET. MOST LIKEY WE WILL HAVE THEM IN STOCK, BUT IF WE DO NOT THEN YOU CAN SEND IN YOURS.
Q:"I ONLY PUT QUALITY PARTS ON MY CAR, HOW CAN YOUR PRICES BE SO LOW.
A: THE INTERNET IS A NEW WAY TO MARKET,LOOK AT WHAT HOME DEPOT HAS DONE FOR THE HARDWARE INDUSTRY. WE HAVE BEEN SELLING AUTOMOTIVE WAREHOUSES FOR OVER 30 YEARS AND NOW WE ARE SELLING YOU DIRECT AT THE WAREHOUSE PRICES. OUR ROTORS ARE AIMCO AND ARE THE BEST MONEY CAN BUY.
Q:"I went to "AND YOU'RE NOT GOING TO PAY A LOT" for a quote on front brakes for my Buick. You would not believe how much they quoted me! Can I buy the parts from N.B.P and have them put on?
A: Yes and No. Yes you can, but not with them. N.B.P. price is the same as they pay for parts. They will tell you that the parts do not meet their specifications, and they're right. discbrakesrus parts exceed their specifications and are guaranteed. Just go to any general repair shop and ask them to install your parts. All you will have to pay is labor.
Q:"I have some mechanical experience, but can I do something as complicated as brakes?
A: Yes you can. Disc brakes are not hard to do. Most cars today are front wheel drive and have hubless rotors. All you have to do is take off the wheel and undo two bolts on the caliper. Lift off the caliper, slide off the rotor. Slide on the new one, put the rebuilt caliper over the rotor. Replace the two bolts and you're off. Note: All caliper sets come with instructions.
Q:"Can I buy just one caliper?"
A: Calipers are sold in Axle Sets only ( Front Axle Set and Rear Axle Set)
Q: "I have a 1995 Ford Escort and put on rear calipers, but I can't get a good pedal."
A: 1991-1996 Ford Escort, Probe and Mazda 626.On these type calipers when installing them you must remove the 14 mm back bolt washer. Using a 4mm Allen wrench, turn the screw clockwise until there is a slight drag on the rotor with the pads. Disc Brakes-R-Us Caliper sets come with instruction.
Q: "I have replaced both front calipers but now I can't get a good pedal."
A: You may have the left caliper on the right side. The bleeder must be at the highest point or air will be trapped inside.